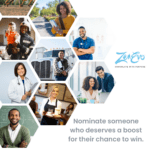 ZenEvo – Who Deserves a Boost?
September 29, 2023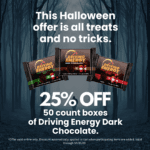 Driving Energy Dark Chocolate Halloween Special
October 19, 2023
ZenEvo Chocolate, a leading provider of dark chocolate energy-boosting snacks, is thrilled to announce exciting updates to its popular ZenEvo Energy Caffeinated Dark Chocolate line. This is a lower caffeine option to our Driving Energy Dark Chocolate line.
ZenVo Energy is designed to provide a delectable combination of great taste and a natural energy boost. Each square of ZenEvo Energy Caffeinated Dark Chocolate is infused with 75mg of caffeine, equivalent to 1 espresso, along with the potent adaptogens Maca, Ashwagandha, and Ginseng. These remarkable herbs synergize with caffeine to deliver a clean and healthy shot of energy without the dreaded crash.
For more information about ZenEvo Energy Caffeinated Dark Chocolate and to explore the complete range of products, please visit ZenEvoChocolate.com. Those interested in carrying the product can contact ZenEvo at 1-800-881-5033 or through the 'contact' form on the web site.